News
Stay up to date with everything that's been going on with Centroid and around the trading world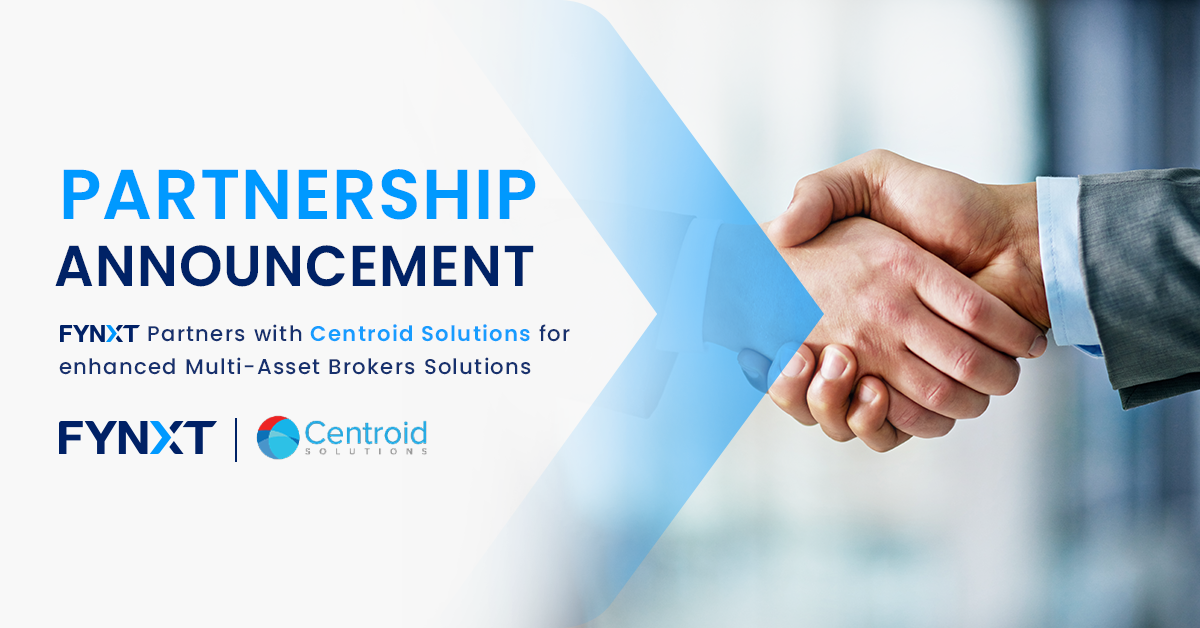 FYNXT Partners with Centroid Solutions for enhanced Multi-Asset Brokers Solutions
FYNXT, a Fintech company based in Singapore, has recently partnered with Centroid Solutions, a technology provider based in Dubai, UAE to offer enhanced services to Multi-Asset Brokers. This strategic collaboration aims to provide brokers with a seamless connection to Centroid's flagship solutions, which encompass a multi-asset connectivity engine, real-time risk management system, and a secure trading infrastructure with low latency.
By leveraging these powerful tools, Multi-Asset Brokers will be able to effectively manage their offerings and cater to the diverse needs of their customers. This partnership ensures that brokers can access the comprehensive solutions offered by both FYNXT and Centroid, allowing them to establish or enhance their brokerage services.
Mr. Aeby Samuel, the CEO of FYNXT, expressed his confidence in the partnership, stating, "We firmly believe that this collaboration will bring significant benefits to our existing and potential clients. In addition to our digital front office, brokerages require a real-time risk management system and a robust network infrastructure that can support high-frequency trading while maintaining low latency and unwavering stability. And I am sure that this partnership will help brokers to grow sustainably and get the competitive edge."
Centroid Solutions CEO, Mr. Cristian Vlasceanu, commented: "Having spoken with Aeby and the FYNXT team and seeing their institutional-grade Digital Front Office solution, we strongly believe this partnership can help clients achieve best-in-class solutions for their brokerage business.
While our clients are leveraging our expertise in building their low latency network infrastructure (through our Centroid Hosting solution) and connecting to multi-asset LPs and trading platforms (via our Centroid Bridge connectivity engine), they can now take advantage of this partnership to gain access to FYNXT's powerful solution to effectively manage and enhance their customer experience.
We are excited to be working closely with the FYNXT team to empower and bring additional benefits for our customers."
This collaboration between FYNXT and Centroid Solutions represents a significant step forward in providing advanced technology solutions for Multi-Asset Brokers. The connection of Centroid's capabilities into FYNXT's Digital Front Office will empower brokers with the tools they need to efficiently manage their operations, enhance their trading capabilities, and ultimately drive their business success.
About FYNXT: FYNXT is a Singapore-based ISO-Certified fintech that empowers FYNancial Services with its NXT-Gen Digital Front Office. FYNXT's Low Code & Modular Digital Front Office offers a configurable IB manager, Next-Gen Managed Accounts, and Contest Manager Portal to Mylti-Asset Brokers. Learn more here.
About Centroid Solutions: Centroid Solutions is a fintech innovator specializing in bridging and connectivity solutions between trading platforms and liquidity providers, complex execution strategies, risk management, quantitative analytics, P&L optimization, hosting and infrastructure for multi-asset financial brokers. Centroid offers a complete suite of technology solutions and infrastructure that is specifically designed to help brokers optimize their business performance, expand their product offering and facilitate business growth. Learn more here.
Subscribe to our newsletter!