News
Stay up to date with everything that's been going on with Centroid and around the trading world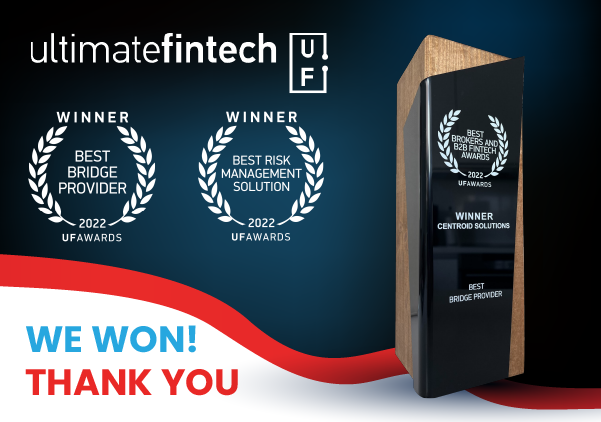 Centroid Solutions wins 2 awards from Ultimate Fintech Awards 2022
Dubai, UAE, 10 June 2022: Centroid Solutions attended the UF Awards Ceremony after the iFX Expo International 2022, which was held between 7-9 June 2022 in Limassol, Cyprus, and have received 2 awards from UF Awards:
Best Bridge Provider
Best Risk Management Solution
On receiving these precious B2B awards, Cristian Vlasceanu, CEO of Centroid Solutions said, "We are honoured and would like to thank everyone who voted for Centroid Solutions. These awards represent a recognition for our hard work. Our commitment has always been to provide best solutions and services to our customers. We will continue to do so with exciting new developments and excellent customer service."
About Ultimate Fintech Awards:
The Ultimate Fintech Awards recognise top brands in the B2B & B2C online trading space, providing traders and businesses an industry benchmark of the best companies to trade and do business with.
Ultimate Fintech: https://ultimatefintech.com/winning/
Subscribe to our newsletter!