News
Stay up to date with everything that's been going on with Centroid and around the trading world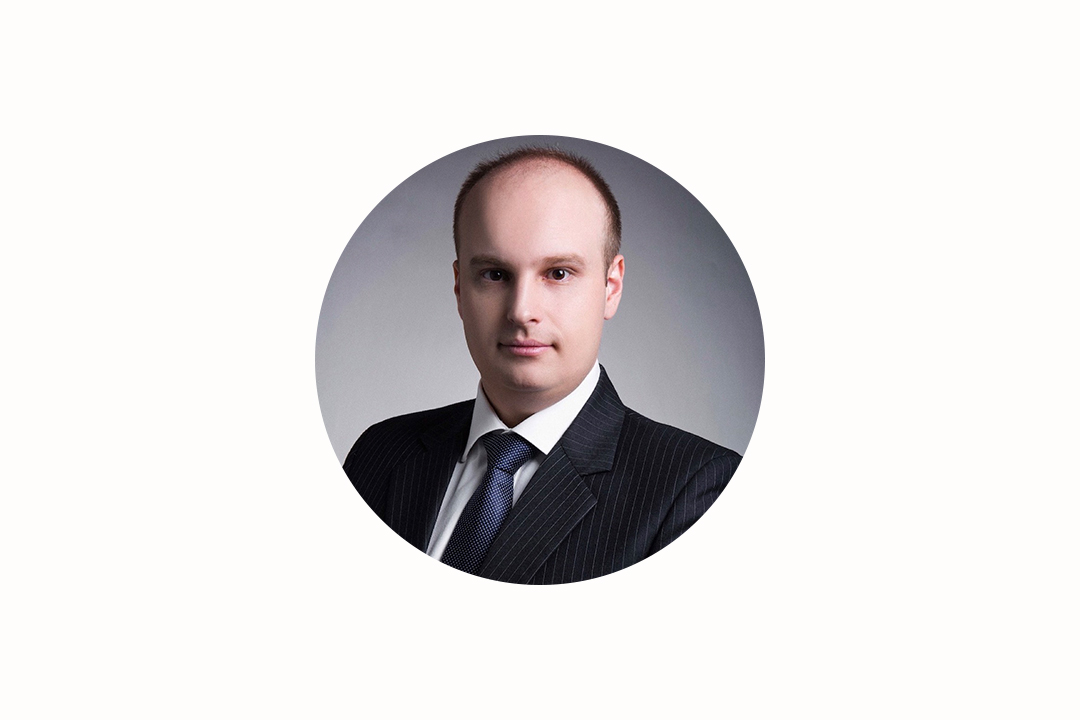 Centroid Solutions: A leading technology firm laser focused on Research, Innovation, and Risk Adjusted Performance
Centroid Solutions is a technology provider that combines real-time analytics, sophisticated risk-management, and advanced connectivity with extensive industry-knowledge to improve risk-adjusted performance and strengthen sustainability for brokers. We spoke with Cristian Vlasceanu the firms CEO to discover how it is differentiating itself in a highly competitive marketplace.
Please tell us a little about the full range of products and services that Centroid now offers.
Centroid Solutions is a technology company specializing in risk management, quantitative analytics, connectivity, execution and P&L optimization for Forex brokers. We are offering three solutions:
Centroid24 Risk Management System – an all-in-one Business Intelligence Software, based on big-data technology. The system consolidates and analyses vast volumes of data from multiple trading platforms and bridges on real-time basis, completely eliminating manual work by automating complex risk management and analytical activities for the dealing room and executives of the company. It offers a convenient interface to monitor and analyze risk exposures, company P&L and all trading activities in real-time, based on data-driven intelligent technology from one centralized environment. It provides comprehensive risk management and analytical insights, risk alerts, complex simulations on trading data with forecasting capabilities, recommendations for actions, and decision-making business reports.
Centroid Gateways Aggregation Engine – an institutional-grade connectivity, execution, and reporting system, backed by highly redundant low latency infrastructure in Equinix LD4, NY4 and TY3, with backup facilities and enterprise-level DDoS protection to ensure consistent, secured and reliable operations. The system connects to any number of LPs of your choice, MT4, MT5, other trading platforms and FIX API clients, to manage pricing, liquidity and execution from one centralized environment. It can also work together with Centroid24 RMS enabling advanced execution capabilities based on real-time quantitative risk analytics of the broker, which would automatically detect and STP individual toxic trades fully or partially, on-the-fly, at the point of execution.
Centroid Connect Hosting Solutions – dedicated hosting solutions provisioned in the world's leading datacenters, specifically tailored for trading servers of Forex brokers. This ensures optimal operation with up-to-date market prices and low-latency towards execution engines and liquidity sources, as well as optimized connectivity between access points and trading servers, for high quality client services around the globe. An enterprise level DDoS protection system safeguards against attacks of any scale.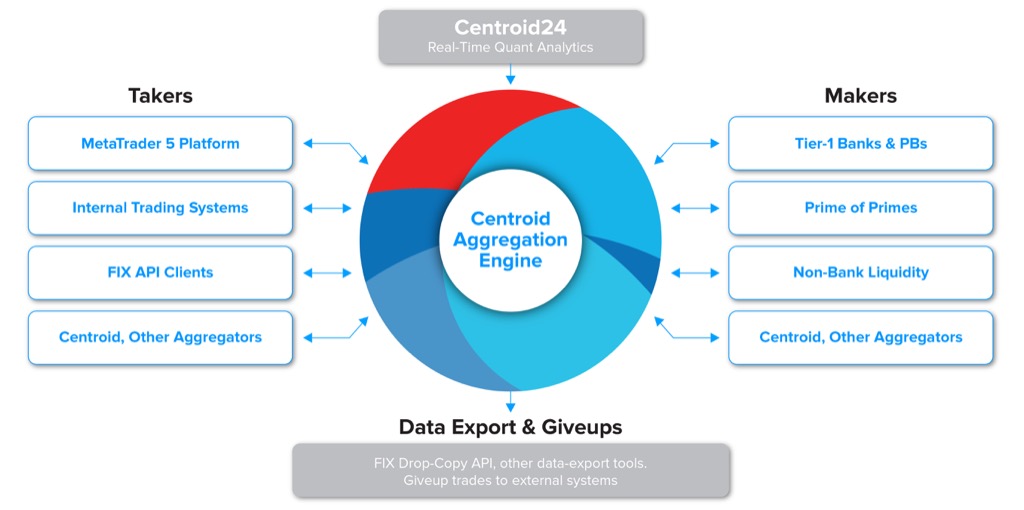 What types of trading firms are you providing services for and how geographically spread are they?
We are catering our products and services to financial firms operating with OTC products, such as: Forex, CFDs, Futures and Cryptos. Our customers are spread across the world and are using MT4, MT5, cTrader or FIX proprietary platforms.
What really differentiates Centroid from many of your competitors?
We are coming from a practical background. Our team is comprised of professionals with over 20 years of hands-on experience in dealing desks, risk management, quantitative risk analytics and trading solutions. We know how difficult it is for brokers to achieve high profitability on consistent basis under any market conditions, while maintaining loyal client-base and growing trading volumes at the same time.
The biggest challenge preventing brokers to achieve best results in all these efforts is actually coming from technological constrains of mainstream trading platforms and bridging technologies used by brokers today – the lack of comprehensive real-time risk management tools; the inability to construct execution rules based on real-time risk analytics of the broker; the lack of tools to optimize clients' trading flow from risk/revenue perspective at the point of execution.
Our competition is either focusing on producing risk management information only, often not in real-time, and most importantly, completely disconnected from the actual trade execution process (meaning that the information cannot be used to construct execution rules, which would automatically detect and mitigate risks in real-time at the point of trade execution); or either focusing entirely on trade execution only, but again, such solutions are completely disconnected from the actual risk management process of the broker (meaning that, such systems also cannot be used to construct intelligent execution rules). This creates a handicap situation for brokers on multiple levels:
prevents brokers to maximize their risk-adjusted P&L results, because risks cannot be automatically detected and mitigated in real-time at the point of execution;
causes business inefficiencies and higher overall operating costs;
prevents brokers from providing a consistent pricing and execution quality for clients.
What makes Centroid unique is the fact that we offer a technology suite which help brokers to effectively overcome the above issues, by merging together real-time risk management and quantitative analytics, with the ability to construct sophisticated execution rules, which would automatically detect and mitigate risks, on-the-fly, at the point of execution.

In what ways can Centroid help brokers to optimize their business performance?
The main question is how to maximize net P&L results, without inflating systematic risks, operating expenses, and at the same time remain transparent and consistent in pricing and execution quality for clients regardless how they trade, under any market conditions. Maximizing P&L at all costs, without regard to systematic risks and without putting clients' interests first is extremely dangerous in volatile business environment and can eventually lead to the loss of trust and reputation for the broker. That is why, when we talk about performance, P&L results are an especially important factor, but not the only factor determining business sustainability and long-term success of a Forex broker.
Centroid Solutions offers a technology suite which allows to effectively manage and control all these business concerns in the most flexible way. Centroid24 RMS offers real-time tools to measure the systematic risk at the level of portfolio, asset class, instrument, currency with automatic hedging recommendations, to stay within desired risk limits under any market conditions. Monitor exposure across all books and company P&L at a portfolio and instrument level, with in-depth clients' risk profiling, trades analytics, flow classification, toxic flow detection, risk alerts and instant decision-making business reports. All these tools are absolutely essential for the practical needs of any Forex dealing department because they automate all risk management activities, providing real-time business intelligence about the risks involved. On top of that, our execution engine allows to manage and optimize clients' flow allocation between b-book and a-book at the level of each individual trade, effectively mitigating any kind of risks in real-time, at the point of trade execution, in a completely transparent way for the clients (without affecting pricing, execution quality, or the trade settings of the clients).

Research has always been important to Centroid. Why is that and what benefits does it bring to your clients?
We consider technology to be the most powerful tool to pursue improvements in risk management and execution. To that end, we rely on computing power to process continuous data on a real-time basis and we developed a proprietary simulation engine that enables us to back-test models prior to implementation. Our research objective is to find incremental improvements that contribute to the overall risk-adjusted performance of our clients. This helps achieves better asymmetrical risk/reward opportunities for our clients.'
What plans do you have for growing the footprint of the company this year in terms of launching new products and increasing global client coverage?
At Centroid we always stand by our mission to develop a research-based, cutting-edge technology to help financial institutions establish better risk visibility over trading operations. All our solutions are delivered bespoke and tailored to individual needs of each of our client. We constantly update our solutions based on the latest requirements and evolving needs of each of our client. During this year we have several new innovative projects in a development pipeline, which would open up new capabilities for our clients to achieve even better overall performance results.

Subscribe to our newsletter!