News
Stay up to date with everything that's been going on with Centroid and around the trading world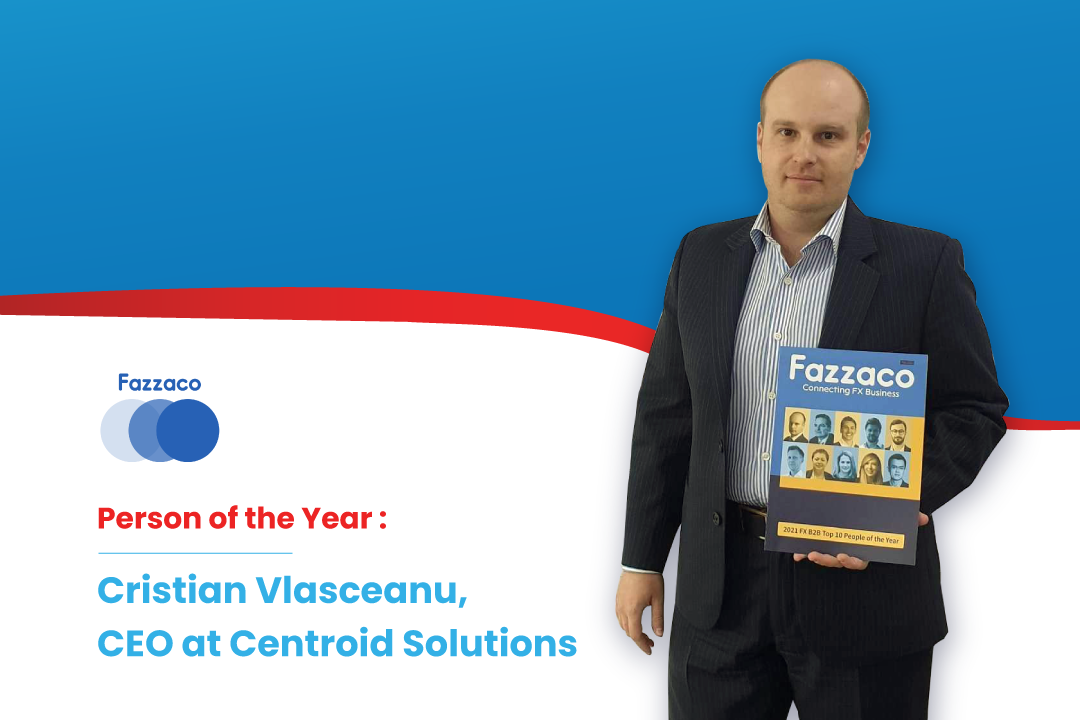 Centroid CEO voted as Person of the Year
Dubai, January 17, 2022 – Fazzaco, a global leading B2B financial media company that offers up-to-date news and expert insights, has voted Cristian Vlasceanu, CEO of Centroid Solutions, as Fazzaco Person of the Year.
The news came as a pleasant surprise, as the company is continuing its developments to implement innovative ideas into exciting features and solutions for all clients.
Centroid Marketing Team interviewed Cristian after he received this recognition, and he commented, 'I am thrilled and honoured to have received this recognition from Fazzaco. 2021 was a remarkable year for me and everyone at Centroid Solutions. Our team has grown, adding further experienced and skilled team members, we released many new features for Centroid's Bridge Engine and Risk Management System, and received acknowledgements for our efforts through our growing customer base and industry awards. And such recognitions and awards give us huge satisfaction and motivation to challenge ourselves and do even better in the future. In 2022, we will continue with our efforts to add additional functionality to our solutions, provide excellent customer service, and we will showcase new releases at expos or events throughout the year.'
In Centroid's New Year Greetings, the company have also mentioned the following focus keywords for this year:
multi-asset
AI driven forecasting
adaptive and predictive functionality
interactive risk data visualization
Something for Centroid's clients, friends and partners to look forward to.
Related links:
https://www.fazzaco.com/newsdetail/person-of-the-year-cristian-vlasceanu-ceo-at-centroid-solutions-128476
https://mailchi.mp/6d2f5343c647/new-year-greetings-from-centroid-solutions-2022
About Centroid Solutions
Centroid Solutions is an award-winning technology provider specializing in risk management, bridging and execution engines, and hosting solutions for financial institutions. Centroid offers a complete suite of technology solutions and infrastructure that is specifically designed to facilitate enhanced connectivity to multi-asset financial markets, help brokers improve risk-adjusted returns, optimize operating costs, and facilitate business growth.
Subscribe to our newsletter!