News
Stay up to date with everything that's been going on with Centroid and around the trading world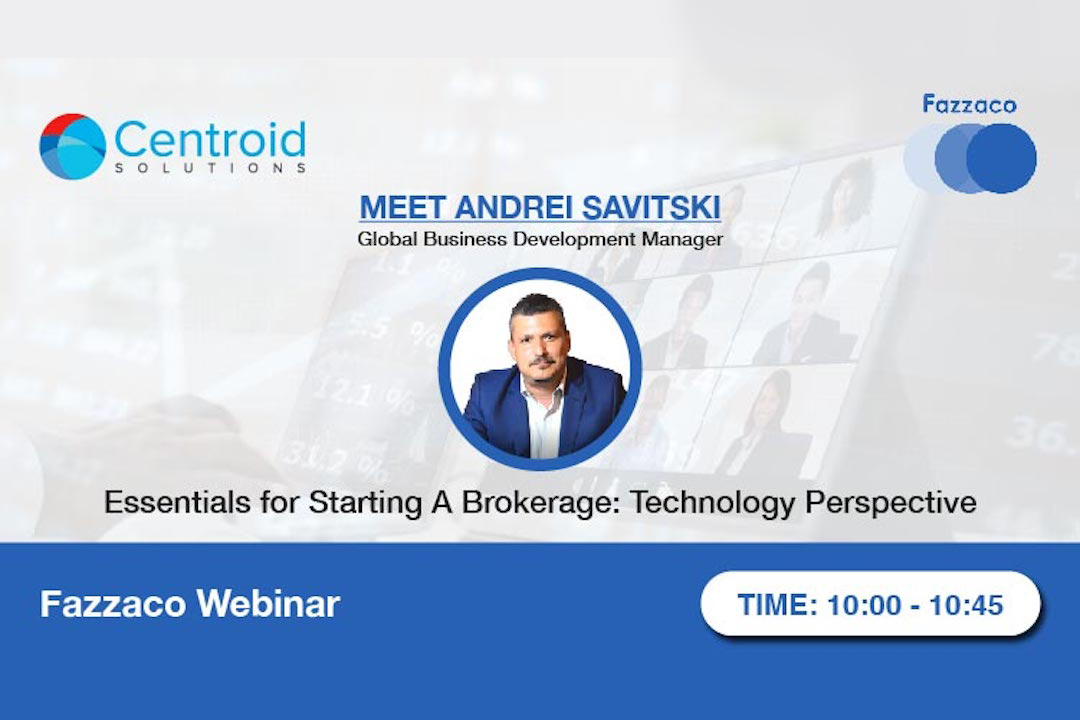 Centroid Webinar – Essentials for Starting A Brokerage: Technology Perspective
Dubai, UAE – 15th February 2022;
Centroid Solutions will host a webinar presentation on Fazzaco Webinars, a new solution Fazzaco rolled out recently. The presentation will focus on the key technology aspects essential for start-up entities in the brokerage space.
Title: Essentials for Starting A Brokerage: Technology Perspective
Date: 16th February 2022
Time: 10:00am – 10:45am (GMT+2)
Link: Click here to access webinar
Brief description of this webinar:
These days a Financial Brokerage is 100% a technology driven business. The core technologies that you choose to deploy at the start of your business, will dictate your ability to grow and compete in this industry, your service quality, business flexibility, operating costs and performance results. Find out about the essential business concerns, and how Centroid technologies can help you achieve efficient, sustainable, and healthy growth of your multi-asset brokerage.
Book this event on your calendar and we shall see you then!
**Please note: This webinar has concluded. Fazzaco has kindly recorded the webinar and is available on their website. Click here to listen to the webinar.**
About Centroid Solutions
Centroid Solutions is a fintech innovator specializing in risk management, quantitative risk analytics, bridging and connectivity, sophisticated execution strategies and P&L optimization for multi-asset financial brokers. Centroid offers a complete suite of technology solutions and infrastructure that is specifically designed to help brokers optimize their business operations and performance, expand their product offering and facilitate business growth.
For more information, please visit: https://www.centroidsol.com/
About Fazzaco
In a bid to mitigate information gap and make fintech services and tools more accessible to brokers, Fazzaco, as a leading forex info hub, provides up-to-date news and premium business content as well as a complete directory of 1,900+ companies ranging from white label providers, bridge providers, forex brokers, liquidity providers, CRM providers, fintechs, etc. The-first-of-its-kind Fazzaco App enables marketing personnel and salespersons to run business from literally anywhere anytime. Fazzaco's proprietary Live Webinar helps fintech companies and solution providers display their services and products to live audience and answer burning questions from clients through live chat.
For more information, please visit: https://www.fazzaco.com/
Subscribe to our newsletter!