Advanced Exposure Monitoring
Monitor true net exposure at the level of underlying markets, instruments, asset classes, and portfolio.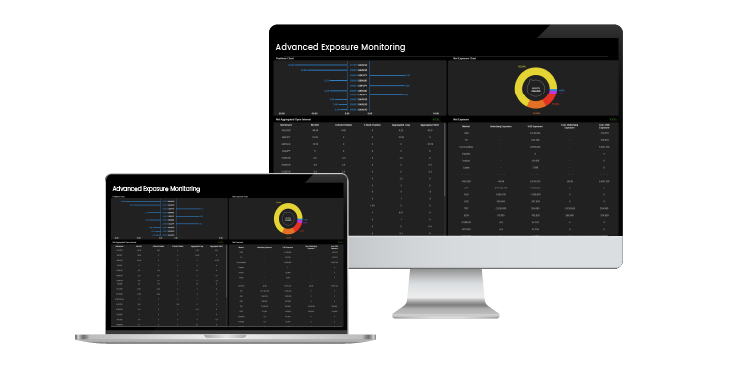 Why is Exposure Monitoring important for brokers?
Many brokers operate hybrid business models (a-book, b-book, c-book) in an effort to achieve better business sustainability and consistency in their risk-adjusted performance results under fluctuating market conditions. Also, in order to increase the client-base, many brokers offer multiple different trading platforms to attract a wider audience of clients with different technology needs and preference. Such efforts result in operating complexity and fragmentation of trading data across different platforms, requiring real-time tool for monitoring open positions and net exposure at the level of the underlying markets, instruments and asset classes from one centralized place. 
Centroid Risk software includes convenient, real-time exposure monitoring tool suitable for business operations of any complexity.
How does Advanced Exposure Monitoring work?
The system aggregates positions from all the trading platforms used by a broker (longs and shorts from clients' positions, a-book and c-book positions) and displays the company's net exposure in real-time at the level of the underlying markets, instruments and asset classes, in one centralized screen:
Displays true net exposure results on the company's book, after all a-book and c-book positions, taking into account synonym instruments as well.

 

The exposure is displayed in lots, the underlying notional, and in USD notional.

 

Displays risk concentrations at the level of client positions, instruments and the underlying exposure.

 

A mouse-click on any instrument, displays the list of all the positions on that instrument with comprehensive details about each position.
One-click Microsoft Excel extract.
Who will benefit from this feature?
CEO, COO, CRO, Risk Managers, Dealing desk, Operations Managers
Want to know more?
Let's talk.
"*" indicates required fields